4 Reasons to Hire a Professional for Your Custom Home Theater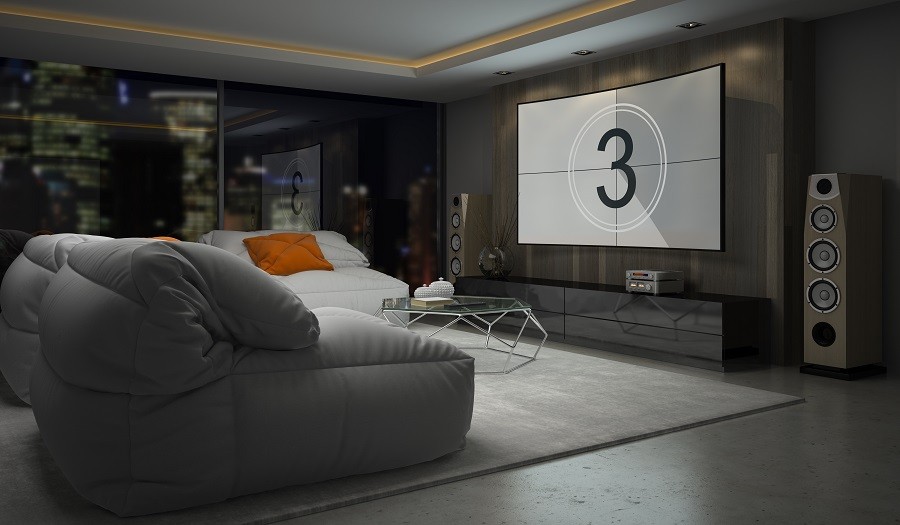 These Details Can Make or Break Your Entertainment Experience
Turning a room into a home theater may not seem too challenging right away. Install a display, add some speakers, and pick out seating. At face value, these steps seem simple enough. But creating an immersive home theater delves much deeper into the complexities of design and installation.
Save time and frustration by hiring a local home theater installer like Rich AV Design that has the experience and technical skill to build your dream custom home theater in the Darien, CT area. Keep reading to learn four reasons why you should trust your project to a home theater company.
SEE ALSO: 3 Must-Haves for Your Home Theater Installation or Upgrade
We Start with Room Layout
The technology in your home theater plays a key role in creating the entertainment experience you desire. However, a large display and powerful speakers will hardly matter if you neglect room design. The layout of your room determines the best size and placement of your gear and seating.
Our team considers room layout first and recommends the optimal location for seating based on room dimensions, your preferred seating type, and the number of seats you wish to have. Once seating is established, we make decisions for display size and placement, as well as speaker placement, to ensure every seat has a balanced, comfortable view of the display and is evenly immersed in the audio.
We Keep the Installation Clean
Installing a robust home theater system requires running cables from the projector and speakers to the receiver, source components, and amplifiers. Plus, all your gear will need to run to a power source. In short, your system will comprise a lot of wiring that can become hazardous or hinder your room design.
Our team is not only well versed in wiring requirements for specific gear and setups, but we keep all cables organized and cleanly snake them behind walls and ceilings or under unobtrusive cord covers so that they stay out of sight and make your system easy to troubleshoot if a problem should arise.
We Streamline Room Control
Even if you only use streaming platforms like Netflix and Hulu, you'll still have to fuss with multiple remotes for the display and speaker system. But if you also want to play video games, watch cable, and enjoy your Blu-ray movies, you'll need to power on your gaming console, cable box, and Blu-ray player, too. You'll also need to adjust input settings depending on what content you want to watch.
Our team makes controlling your home theater simple by integrating everything into a home automation system. From a universal remote, tablet, or mobile app, power on your display and speaker system, manage your streaming services or film collection and dim the lights to get ready for movie night. One-tap scenes like "Movie" or "Game Night" can even adjust input settings, pull up the right content, and create the perfect environment for your entertainment in one fell swoop.
We Make It Uniquely Yours
Each project we undertake begins with a consultation to discuss your vision. Every homeowner is different: Some want their home theater to be a subtle multipurpose space that also serves as a family room, while others want a dedicated home theater equipped with lit-up walkways, rows of plush theater recliners, and color-tunable cove lighting.
No vision is too big or too small for us. We can bring your dream home theater to life and make it uniquely yours, all while incorporating the latest technology, ensuring the installation is clean and efficient, and making everything simple to use for the whole family.
Start your home theater project or upgrade by connecting with our team today! Contact us here or call (203) 653-5025. We look forward to working with you.