Landscape Lighting Ideas for a Fun and Functional Backyard
Install Outdoor Lighting to Entertain Guests in Your Stamford Home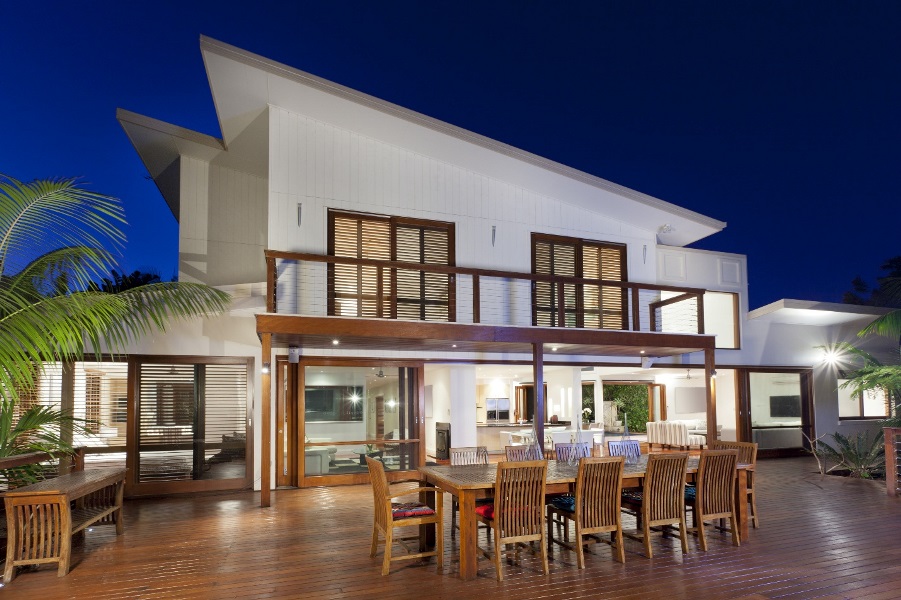 Landscape lighting is a very functional necessity since you need it to light up your driveway and porches, but it can also make your Stamford, CT home look even more beautiful and protect it all year long. While anyone can add a few lights to their front or backyard, it takes a professional to install landscape lighting that looks nice and also functions properly. Automate your outdoor lighting, and you'll also make it super easy to control your lights any time of day or night. Read on to discover how we can brighten your outdoor spaces with lighting control.

SEE ALSO: Lutron Lighting Control Gives Your Connecticut Home a Beneficial Brilliance


Beautiful Outdoor Lighting Ideas

Here are some ideas to get you started on planning an outdoor area that is both gorgeous and pragmatic. Our team can help bring your vision to life, whether you'd like an English style rose garden in the back, or a Greek style outdoor banquet area that is simple and white.

Basic Lighting: Install lights on the house and in the yard to provide ample light for you to see at night. You'll want to brighten the front and back porches so that if you arrive home late you can easily see the lock and door knob. We can even add an occupancy sensor so that the lights automatically turn on as you walk up to the house. Have a front gate and long driveway? We can add small lights along the driveway so you can see where you're going and visitors can easily access the intercom at the front gate. Place path lights along your walkways so you and your guests can safely and easily navigate the backyard.

Accent Lighting: If you love to hang out outside and entertain, then creating a relaxing area for lounging is ideal. Set up a pergola surrounded by flowers and plants and place comfy chairs and tables for evening diner parties. Then pick a few decorative light fixtures to hang under the pergola as feature pieces. String mason jars with lights inside around the posts to give it a whimsical feel. Accent lighting can also highlight special areas of your property, like a fountain or garden. It can be installed on the ground level and pointed up, or installed up high and directed down to imitate moonlight.
String lights are a nice touch to add to an outdoor dining area or dance floor. Soft white bulbs add beautiful and romantic ambiance for various occasions. You could even make your home feel like a luxury resort by placing lights in and around the pool, ponds, and even in the trees. If you desire color, we could install green, blue, or red bulbs in the fixtures to add to the color scheme.

Tie Lighting with Security
Entrance lights at the front door provide safety and security as they let the neighborhood know someone is home. We can also tie in motion sensors to the lighting system so that flood lights alert you to any movement around the house. Outdoor lights provide peace of mind since you can easily check on your property and see if anyone is lurking around at night. In case of a break-in, the alarm will sound, the police will be alerted and the lights will turn on. Tying in your lights with the security system adds another layer of protection to your Connecticut property.

Add Easy-to-use Controls
Turning the lights on after all the work is finished is the most fun moment. We place easy-to-use controls in your hands so that accessing your landscape lighting system is simply effortless. By creating different areas of lighting, you can adjust the lights in the various areas of your backyard separately. Open an app on your smartphone or tablet and turn on the garden lights for an evening stroll, or the pool lights for a midnight swim.

You can even coordinate the different lights for special occasions, like birthday parties or romantic evenings with you partner. For example, create a scene called "Diner Party" to turn on the string lights over the pergola, the lights around the BBQ, and the accent lights on the dance floor area. Add an outdoor music system so that your audio turns on at the same time! For everyday use, timers can help make ending the evening go smoothly so that all of the accent lights shut off, but the floodlights stay on, at the same time during the week. Right at midnight, all the pretty lights will shut off but the necessary ones will stay on.

Now is the time to start planning for summer gatherings! Fill out this online form if you'd like us to install a beautiful lighting system in your Stamford, CT home.

No video selected.