How to Create an Impressive Outdoor Entertainment Space
Find Out How to Enjoy Your Backyard with These Creative Tips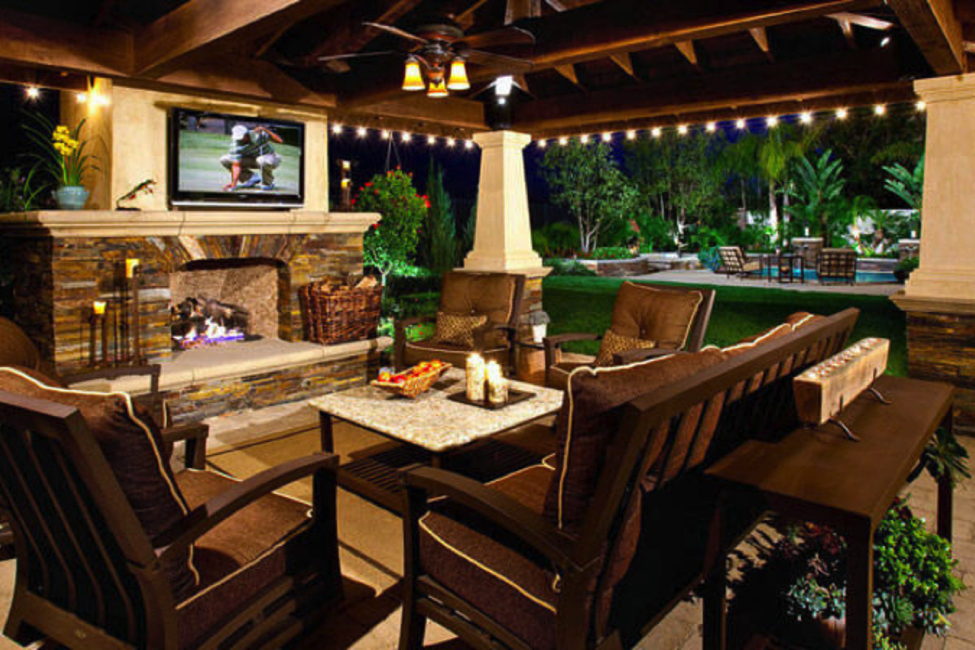 Summer is here, and so is the wonderful weather. Instead of enjoying it through your windows, give yourself a reason to get out. There's no need to feel confined to your home when you have so much useful space outside that can be transformed into the perfect outdoor entertainment area. But that doesn't just mean cooking on the grill or simply sitting in lounge chairs. Think bigger!
Your outdoor entertainment space at your home in Greenwich, CT, takes the fun to a whole new level. Outdoor TVs, a high-quality outdoor audio system with distributed speakers, and smart lights give everything the perfect glow for evening get-togethers. Want to find out more? Read our blog for creative tips on taking your backyard entertainment to the next level.
SEE ALSO: How Rich AV Design Can Help You Build Your Dream Home Cinema
Light Up Your Landscape
Even an average-looking landscape looks spectacular at night. Not that your yard is average-looking! The point is that landscape lighting plays a big part in creating the perfect outdoor space. Pathway lights, step lights, hanging lights, and bullet lights accentuate features that give your yard personality.
When you integrate landscape lighting with your smart home, you can create preset lighting scenes, such as "big party," "small get-together," or "romantic evening." Then, just press the preset button, and the lights adjust to your preferences. Many outdoor lighting products allow complete customization of colors, brightness levels, and more.
It's TV Time!
This is where it gets really fun. Just imagine enjoying the beautiful weather on your porch or pool deck while watching a game, a movie, or your favorite TV show. The fresh air, the entertainment, and a beautiful view of your yard. Can it get any better than that? Actually, it can. Add some friends and loved ones into the mix, and you have the makings for a perfect evening.
But before you go out and buy an indoor TV for your outdoor space, stop what you're doing. That type of TV can never compete with the sun if you choose to watch it during the day. You need one that is specifically made for outdoor weather and is bright enough to provide vivid displays with no glare from the sun. Outdoor 4K UHD TVs from Seura are 60% brighter than indoor displays and come in many sizes to suit your needs. And of course, they are completely weatherproof.
Speaking of Speakers
Everything finally comes together when you install an outdoor audio system with evenly distributed speakers. By placing landscape speakers in specific locations, you achieve surround-sound audio like you've never experienced before. Because the sound is all around you, you don't need to blast the music to enjoy crisp audio – and you won't wake the neighbors either.

There are many excellent high-quality outdoor brands on the market designed to withstand outdoor environments, such as rain, snow, and extreme temperatures. They'll provide excellent and consistent performance for many years. If you don't like the look of speakers in your yard, you can hide them. Underground subwoofers, wall and ceiling speakers, and tweeters can be hidden to blend in seamlessly with your landscape.

Are you craving more outdoor entertainment at your home in Greenwich, CT? Get started by filling out our online contact form or calling (203) 653-5025. We look forward to hearing from you.

No video selected.