Home Theater Window Problems Solved with Motorized Shades
How to Navigate the Challenges of Installing Shades in Your Greenwich Home Theater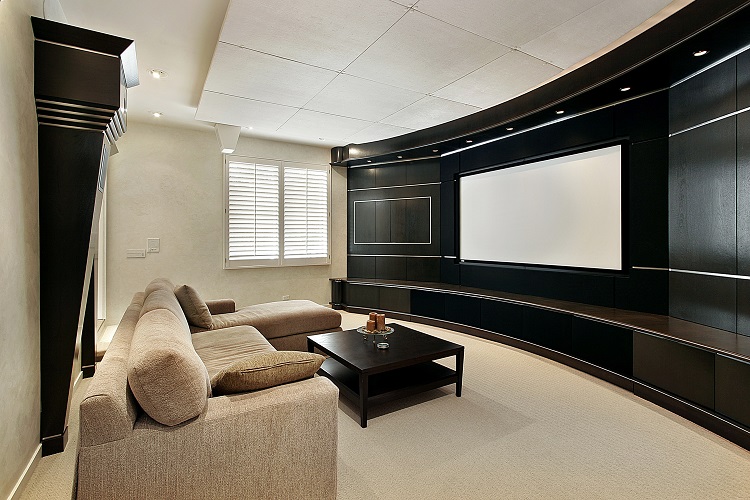 One current design trend that is in many homes today is floor to ceiling windows, and installing many of them. Open concept designs that include lots of windows make the home feel light and airy, which in turn elevates the homeowners' mood. Typically, no one wants to live in a dark, dungeon-like house. However, this type of design isn't exactly home theater friendly. While windows add architectural interest and beauty to your spaces, they can be a pain when you want to watch a movie. Glare from the sun is just one of multiple problems that windows can cause. Fortunately, Rich AV Design has a lot of solutions that can resolve this issue. Continue reading this blog to learn how motorized shades can enhance your home theater in Greenwich, Connecticut.
SEE ALSO: How to Pick the Right Window Treatment
Issue #1: Glare and Washed Out Picture on the Screen
Not only does sunlight produce glare that can hurt your eyes and block the view of your video, but it also mutes even the most vibrant colors. The result is a distracting and uncomfortable image and an inaccurate production. There are two ways you can resolve this issue. The first is purchasing a projector and screen that reduces glare and can produce colorful images even in the brightest sunlight. There are a few manufacturers that make special home theater systems to address this problem, making it easy for you to watch TV in a bright living room in the middle of the day. But if you already have a home theater or want to invest in a particular brand and model, then the more obvious solution is to install motorized shades. When you have a lot of windows, or even want to make sure all of the sunlight is blocked out, you need a professional installation and high-quality product.
With automated shades, you'll be able to easily lower shades with the press of one button on your cell phone or tablet, or even a wall keypad marked "movie". Lutron shades have been specially designed to tightly hug windows and cover the bright sunlight. Blackout shades block out the light 100%, while solar shades are more for protecting furniture and reducing the heat in the room. So a blackout fabric will be your best selection. You can control all of your shades at the same time in your theater, or just one at a time. Motorized shades can also be integrated in with lights, thermostat, and other features in your smart home so you can set up the room with the press of one button.
Issue #2: Poor Sound Quality
Windows are very reflective surfaces, meaning that sound quickly bounces off of them. However, sound that hits a wall is absorbed into the drywall, which creates an uneven dispersion that affects the overall performance of your surround sound system. The exception is that at times some of the sound can escape the window into the yard, blasting your neighbors if the volume is too loud. There are a number of ways to address this issue, including tweaking the receivers or processors to get rid of some of the imperfections, but motorized shades are another part of the equation. Window treatments, like roller shades and motorized drapes, become absorptive surfaces. They actually minimize the amount of sound that escapes from the room and, at the same time, those harsh reflections that affect performance.
These are just two of the ways motorized shades can affect the overall performance of your Connecticut smart home, and there are so many more benefits. Click below to get started on a motorized shade installation.