Enjoy Effortless Entertainment Anywhere in Your Home This Winter
It's All Possible with an Audio Video Distribution System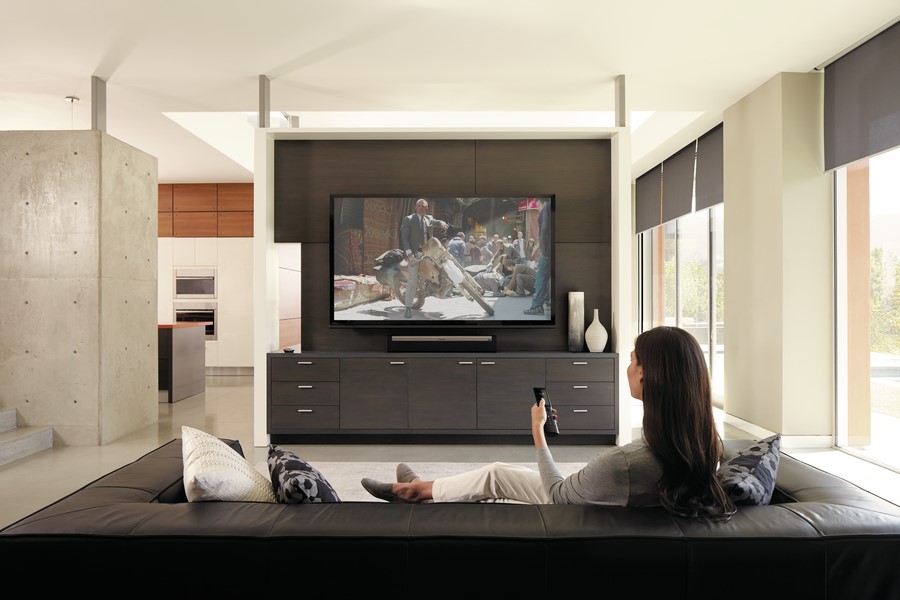 As the season changes in Connecticut, you'll likely spend more time indoors instead of bracing the cold rain and snow. This change in weather makes fall and winter the perfect time to relax at home and catch up on new movies, TV shows, and music.
Because your home entertainment systems get quite the workout this time of year, why not make them easier than ever to enjoy? With audio video distribution, you can access any audio and video content from anywhere in your Greenwich, CT home at the touch of a button. Say goodbye to cluttered AV equipment, unsightly cables, and that pile of remote controls.
Read on to learn more about this innovative solution that enables you to enjoy movies, TV, and music anywhere in your home effortlessly.
SEE ALSO: Can Your AV Distribution System Spark Joy in Your Home?
Embracing AV over IP
Your current home entertainment setups probably consist of a variety of TVs, AV receivers, cable boxes, Blu-ray players, Apple TVs, Rokus, sound systems… and the list goes on. Every room in your home that has a TV screen or sound system has its own collection of source components, cables, remote controllers, and more. Although streaming services like Netflix, Hulu, and Spotify have made distributing content across your home much easier than it used to be, you're still only limited to online content.
AV over IP (internet protocol) allows you to access and distribute any media—whether it be a show on Netflix, a DVD, or even your vinyl collection—throughout your home in just a tap. Start a movie in the living room, pause it, and press play in your bedroom. Listen to your favorite classic holiday CD in the kitchen and then extend the music to the sound system in your living room.
AV over IP requires fewer components in each room, as well as less wiring since AV signals are transmitted over the same cables used for your network. You no longer need separate AV receivers and other source components in each room you have a TV or sound system. And the best part? It's all controllable via one easy-to-use platform.
Control Is a Tap Away
Audio-video distribution centralizes the control of all your media content, and the Savant Pro app makes it easier than ever to navigate. With Savant Pro on your smartphone or tablet, you can call up anything you desire, whether it be a Spotify playlist or cable TV, and play it in one room or every room in your home that has a TV display or speakers. Savant also offers in-wall touch screens, voice command, and a universal remote so you can control your whole-home media in the best way that suits you.
When you integrate your media with the rest of your smart home, you can control other solutions such as lights, climate, and security from the same Savant control device. Just pick up your smartphone or universal remote and tap a programmed scene that dims your lighting, lowers your shades, adjusts the temperature, and starts your favorite Netflix series in the living room.
Perfect for Holiday Parties
Speaking of scenes, you'll quickly find that they serve as a great party aid when hosting holiday events this season. Picture this: it's 8:00 PM and your party is about to begin. You look out the window and see friends and family arriving. In an instant, you grab your smartphone from your pocket and open the Savant Pro app to tap the "Party" scene. This scene triggers a fun music playlist to begin in the kitchen and dining room, and a movie to start in the theater room for the kids.
With integrated lights and climate, your "Party" scene could also illuminate your entry walkways, dim the house lights, and adjust the temperature upstairs and downstairs to a comfortable setting. Let your smart home do the work for you so you can focus on greeting your guests and enjoying the party.
Enjoy your home entertainment in a new and improved way this winter with audio-video distribution! From consultation to design, installation, and ongoing service, we've got you covered. Connect with our team at (203) 653-5025 or fill out our online contact form here. We look forward to hearing from you.