Custom Media Rooms that Stun and Impress
Use a Greenwich A/V Professional to Design Your Media Room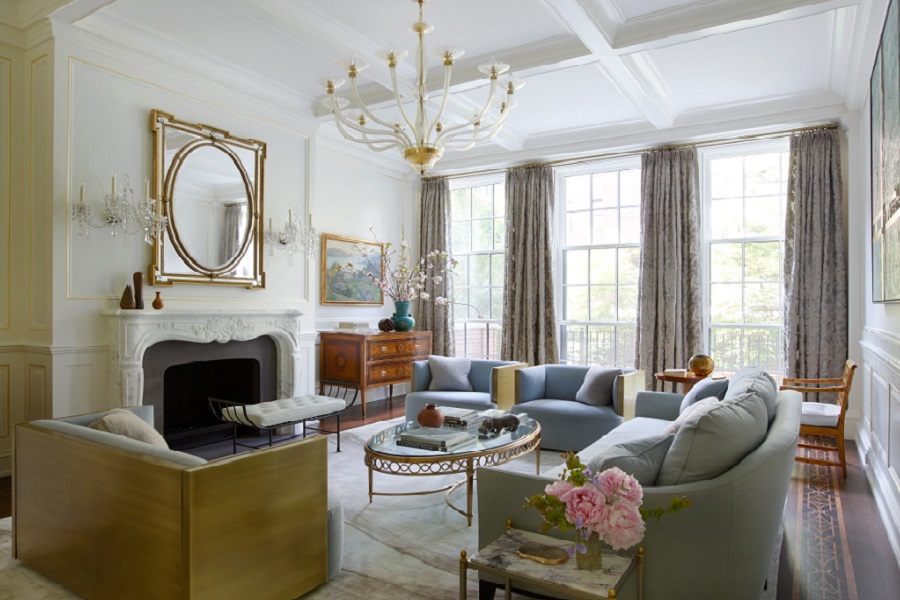 Today's interior design style is all about hiding your technology. From placing TVs inside the ceiling using motorized lifts to framing a TV with a custom design, there are many options for making your audio/video look stylish—or even make it completely disappear. However, you'll definitely need to work with a media room design professional to achieve this. We work with interior designers and builders in the Greenwich, CT area to meet your exact needs and deliver stunning rooms that look beautiful and have multiple uses. Read this blog to learn how we can customize a media room for you that will impress your family and friends.
SEE ALSO: Manhattan Townhouse Showcases Custom Smart Home Designs
Hidden TVs
The TV manufacturer Séura is a master at designing and building TVs that deliver high-quality performance and also can be kept hidden from the naked eye when not in use. Their Vanishing TV Mirror can be placed anywhere in the house, even in the shower. Place a mirror TV above the fireplace and when you feel like watching a flick, hit a button and turn it into movie mode. Afterwards, simply set it back to a mirror.
If you find that a TV mirror isn't your style, we can also install flat screen TVs behind pieces of art or conceal them inside ceilings and walls. We use motorized lifts to move screens in and out of spaces. Hidden technology is a great option if you want to create a multi-purpose space, but don't want the technology to stand out. It can also keep your interior design consistent and open up room for an open concept layout.
Hidden Speakers
Our partner Stealth Acoustics has speakers that can be placed in the wall and match your wall color or finish. Whether you have covered the room with a wood venire or have a unique wall paper or color, we can make your speakers invisible. The best part about our invisible speakers is that the audio performance isn't compromised. These speakers still generate incredible sound and deliver a listening experience that makes you feel like you're on a concert stage.
The benefit of hiding your audio products in the whole house is that you'll be creating a surround sound system that travels with you as you walk from room to room. Wherever you go, the music follows and none of the rooms will be cluttered by wires, multiple speakers, or other audio equipment.
In addition, Rich AV Design can connect multiple music sources to the system so that you have plenty of options. You could turn on a party playlist for the entire house from an MP3 library, or each individual could pick what they want to listen to in their own space—whether it's Pandora, Tidal or Spotify. When it comes to sound, the less you see the more you can focus on simply listening.
If you are interested in a custom media room, please contact us online.