4 Ways Motorized Blinds Go Beyond Added Convenience
Use Our Tips Below to Make the Most of Your Motorized Window Treatments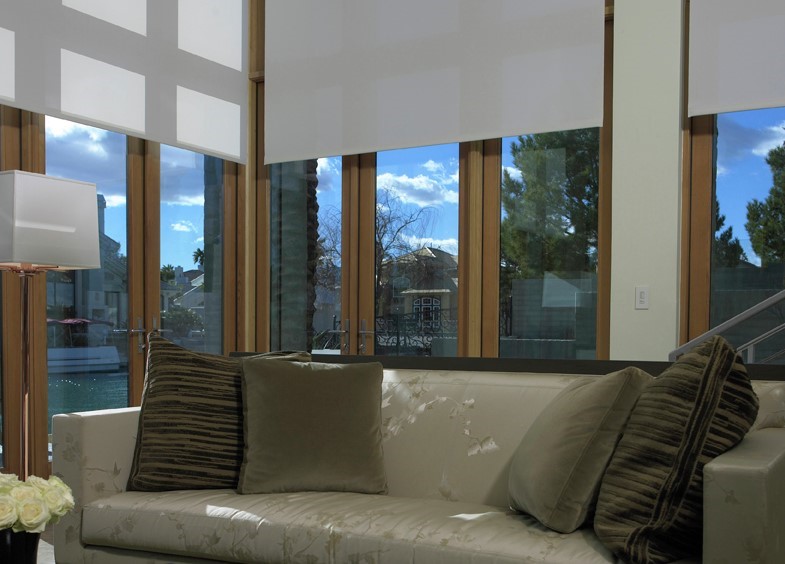 Upgrading to motorized blinds has many benefits to offer you, but convenience certainly takes the cake. Automating a repetitive task, such as lifting and lowering your shades and drapes at the touch of a button, saves you time and eliminates the frustration of cords and strings.
But convenience is only the tip of the iceberg when it comes to the benefits of switching from manual to motorized window treatments in your Darien, CT home. Read on to learn four more ways this smart solution can elevate your lifestyle.
SEE ALSO: How to Get a Custom Smart Shading Design
1. Get More Use Out of Your Rooms
The right motorized window treatments can make several spaces in your home more versatile. For example, blackout motorized shades in the living room can instantly transform this space from a bright, window-filled area for reading and socializing to a dark theater room for enjoying your favorite movies. One-tap control makes it possible without ever having to leave the couch.
Extend your leisure time outdoors by adding motorized shades to your patio. Instead of neglecting your exterior spaces because of abrasive temperatures and incessant bugs, motorized shades can transform your patio to make it more comfortable for longer periods of time without hindering your outdoor views. With one-tap control, lower your solar shades to block UV rays, keep out insects, and cool down your patio in the summer months.
2. Boost Your Wellness with Natural Light
Our bodies need natural light to function well. The dynamic color temperature and intensity of sunlight throughout the day not only helps to regulate our energy levels and improve our health, but it also prepares our bodies for rest. If you're having trouble focusing at work or staying asleep at night, lack of exposure to natural light may be part of the problem.
By scheduling the motorized blinds in your most commonly used rooms to an astronomical timeclock, you can take advantage of natural light when you need it most. When the sun rises in the morning, the shades in your bedroom can rise in tandem in order to flood in natural light and help you get your day started. Likewise, as the sun goes down in the evening, your shades can automatically lower at sunset, too.
3. Give Your HVAC System a Break
With colder weather comes higher energy bills. While the summer and winter seasons can wreak havoc on your HVAC system, motorized shades can help significantly lower your dependence on electrical heating and cooling. Schedule your window treatments to rise during peak sunlight in the winter to help warm your home. Likewise, during the summer months, schedule your window treatments to lower during peak sunlight in order to help keep your home cool.
Motorized blinds help warm and insulate your home during winter and block out solar heat gain during summer so you can conserve energy. You can even integrate temperature sensors with your motorized shades that trigger them to lift or lower once the sensors detect a specific temperature in the room.
4. Increase Home Security While Away
Whole-home scenes that adjust every window treatment in your home at the press of a button not only save you time but also grant you peace of mind knowing all your windows are securely covered before leaving for work or going on vacation. If you've already left home and forgot to adjust your shades, you can remotely close them from the convenience of your smartphone.
For added home security, schedule your shades to adjust on their own throughout the day to simulate that someone is home. Potential intruders will think twice before attempting to break into your home if they notice movement coming from inside the house.
Make better use of your motorized blinds, shades, and drapes with help from our team at Rich AV Design. From consultation to design, installation, and ongoing support, we're your go-to team for custom motorized window treatments. Learn more by contacting us at (203) 653-5025 or filling out our online contact form!