3 Ways to Hide a TV in a Media Room
Customize Your Home with Media Room Design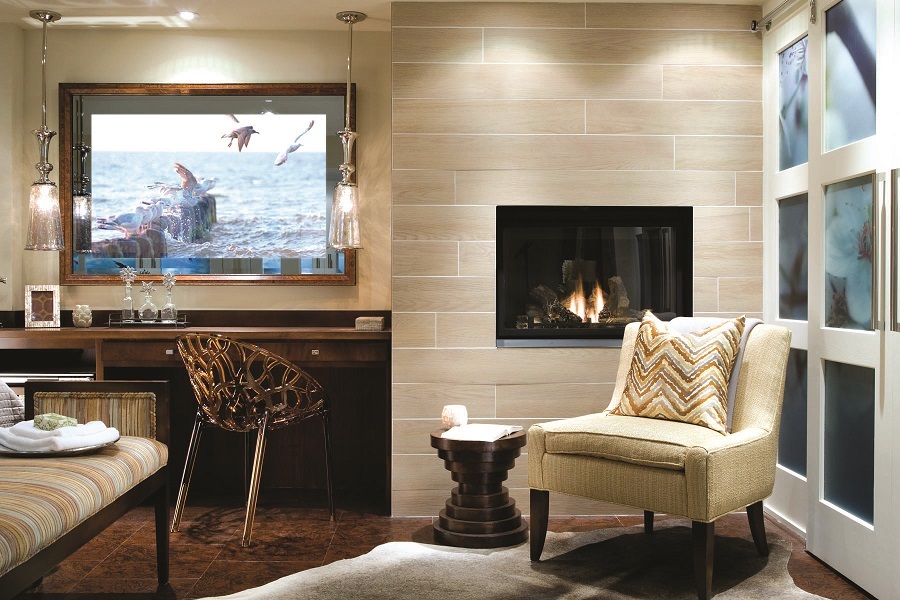 Who says you have to make the TV the focal point in the room? Typically, families arrange all of the furniture and décor around the screen, but you have other options. Hide the TV and then you can focus on the interior design of the room without having to worry bout the technology disrupting the style. There are a number of ways to hide a TV, so keep reading to find out how we can design a media room in your Darien, CT home.
SEE ALSO: 3 Ways to Upgrade Your Media Room Design
Mirror TVs
Seura Entertainment TV mirrors hide the TV picture inside the glass so you never know its there when it's off. Hang it in a beautifully decorated room for entertaining or reading and then you can surprise your guests when you turn it on. Mirror TVs are also great for bathrooms. In the morning, you can wake up, turn the TV on in the mirror and you watch the news while you brush your teeth. Seura gives you the ability to customize the mirror too, so you can choose from a variety of different frames, shapes and sizes to fit your personal taste. They even have models in 4K so you can stay up to date with the newest and best technology.
TV Lifts
Motorized TV lifts allow you to hide a TV virtually anywhere. The most common way to achieve this is to hide the TV in a piece of furniture, like a cabinet, and then use the lift to move the TV out of the secret compartment. Press one button on a touchpad and the TV appears in front of you. You can even make it turn to different angles so that people can see it from different points in the room. Typically, homeowners use TV lifts for putting a TV inside a custom cabinet at the foot of their bed, but you can also hide the TV in the wall, ceiling…really anywhere as long as there is space. We work with a number of architects and builders who can also assist in the design if you need to make structural adjustments to the room.
TV Framing
Another stylish way to conceal your TV is to hide it behind a piece of art. How is this different from a mirror TV? A mirror TV has the screen inside the glass, so it is a part of the mirror, whereas this method simply puts a piece of art in front of the screen and frames it. Push a button and the artwork moves out of the way so you can watch a show. One benefit of this is that you avoid glare. Mirror TVs can show some reflection on the glass. Typically, TV art covers let you customize the piece so you can use any piece of art you like—even a family photo. When you reveal that a TV is behind your Monet, your guests' jaws will drop.
If you want to maintain a beautiful home design and enjoy audio/video technology too, contact us online. We'll help design and build a media room that impresses your guests and also works with your unique lifestyle.